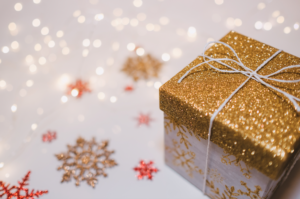 Holidays Are For Fundraising!
Donate your holiday – ask for $ instead of presents
Add a fundraising letter or note to your family's holiday card
Host a holiday party (ugly sweaters?) and charge a cover to attend
Christmas carol with a tip jar
Dress up as Santa and charge for photos
Offer to take photos of pets with a winter backdrop
Deliver candy canes with notes for a fee (candy grams!)
Cookie delivery – have people pre-order then spend a day baking & delivering with friends
Ask your parents to Airbnb their guest room for 4K
Make and sell personalized holiday cards
Sell bracelets, stickers, homemade crafts, artwork, holiday wreaths, ornaments or buttons as gifts
Have a gift wrapping station on campus, church, or at Barnes & Noble and put out a tip jar
Ask to sell hot cocoa or apple cider on campus, at a sporting event, or at a local tree farm
Host a polar bear plunge and charge to participate
Have people pay $1 to guess the amount of candy in a jar, winner gets a prize
Want to print these ideas? Click here: Holiday Fundraising for 4K Have fun and happy fundraising!
-Becca Eddy, 4K Program Coordinator